About
Multi Jet Fusion (MJF) is HP's proprietary 3D printing process. MJF is a process that can produce multi-colored or multi-textured parts. MJF parts are stronger and more homogenous than SLS parts. Processing time is also less in MJF compared to SLS. In Multi Jet Fusion (MJF) an array of inkjet nozzles dispense fusing and detailing agents selectively on a bed of nylon powder, which is then fused by heating elements into a solid layer. Using different detailing agents multi-colored or different textured parts can be made.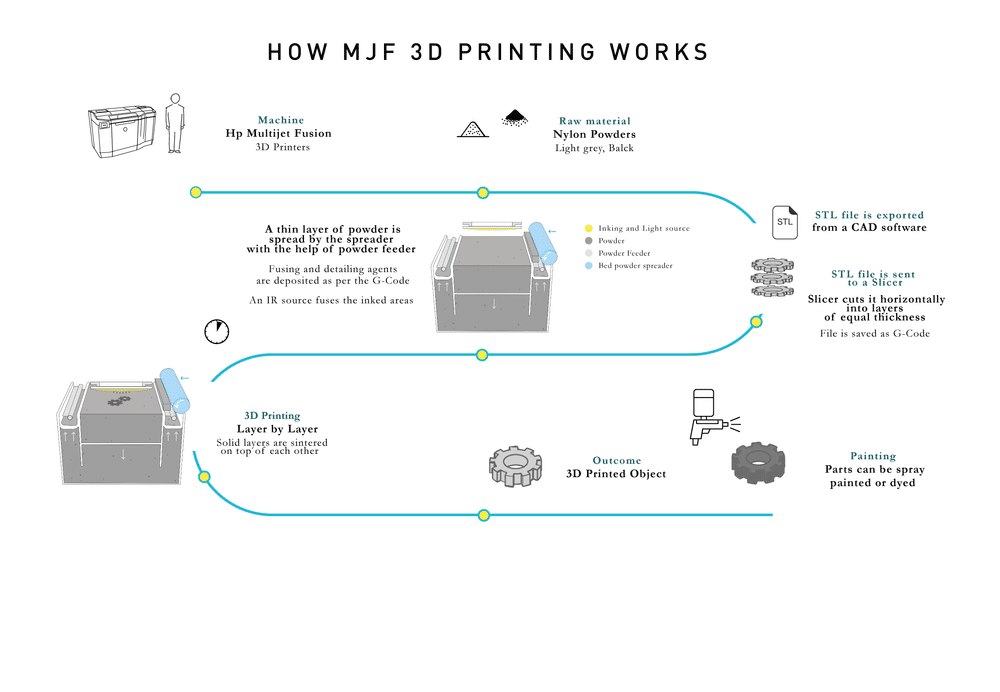 Materials
Nylon is tough and partially flexible. It has high impact resistance too. It is an ideal choice for printing durable parts. It has good heat resistance too.
Pricing
| Material Name | Material Unit | Material Cost |
| --- | --- | --- |
| Nylon | cc | ₹ 70 |
Finishes
Sand Blasting
Sand Blasting is used on SLS and MJF parts to give them a smooth finish after printing is done. The output parts of these processes generally have a rough surface finish. Sand Blacsting can help smooth their surfaces to a good extent.
Reviews
Read success stories in social media with Soch3D from these trusted sources.
Customer rating for Soch3D's 3D Printing Service : 5/5 from 3 satisified customers.
Hameed Sheikh - Mumbai, India
MJF 3D Printing Service, Default (0.1mm layers) PA 12 Nylon White
I approached Soch3D to 3D print a replacement gear in my antique Radio. I couldn't find the replacement part anywhere. Soch3D designed and made the part in the MJF process which turned out to be a perfect solution for my problem. Kudos to Soch3D team.
Chinmay Goel - Hyderabad, India
MJF 3D Printing Service, Default (0.1mm layers) PA 12 Nylon White
I tried Soch3D for MJF parts I needed. I got the parts delivered in good quality and short time. Their service was top notch with timely updates on the order.
Rakshit Agarwal - Delhi, India
MJF 3D Printing Service, Default (0.1mm layers) PA 12 Nylon White
Soch3D team suggested the MJF process for my medical project. I placed an order online on their website using their instant quote and ordering tool. I was pleasantly surprised by the quality of the parts delivered.I will use their services for my further orders.