About
Stereolithography (SLA) is an additive manufacturing process that belongs to the Vat Photopolymerization family. SLA is typically used when a great surface finish and dimensional accuracy in the order of microns is necessary. The raw material is often a liquid resin which polymerizes when laser or light is incident on it. Very fine and intricate features of a design can be thoroughly replicated using SLA. A variety of materials like ABS, Polycarbonate, Clear plastic, Dental resins, and Bio-compatible materials are also possible in the SLA process.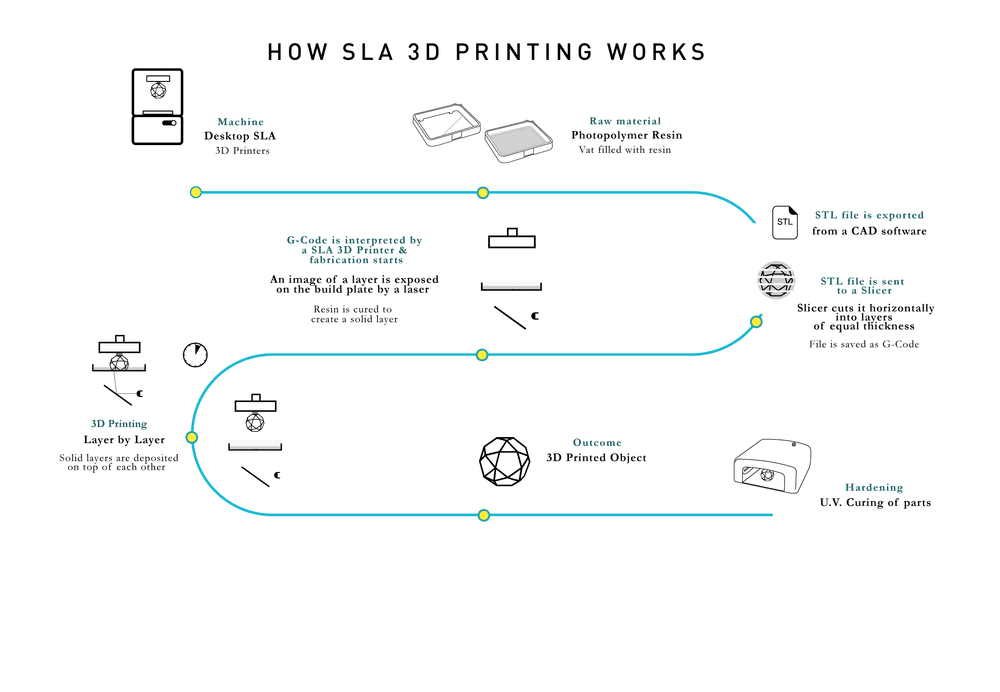 Materials
ABS resins produce high stiffness, high resolution prints with a smooth injection molding-like finish. Their low-cost makes them ideal for prototyping applications. The color of the resin affects its properties. For example, grey resin is better suited for parts with fine details and white resin for parts that require a very smooth surface.
Rubber-like resin allows engineers to simulate rubber parts that are soft to the touch. It can also be used to add ergonomic features to multi-material assemblies, like packagings, stamps, wearable prototyping, handles, overmolds and grips.
The zDental Model Sand resin offers a balance between rigidity and tensile strength, high geometrical precision and a quality surface finish. Its surface finish is smooth, matt and with a color similar to plaster, which facilitates the clear visualization of the model during production. Thanks to all this and its low cost, the zDental Model Sand is one of the preferred dental resins of the producers of high precision dental models.
Pricing
| Material Name | Material Unit | Material Cost |
| --- | --- | --- |
| Tough | cc | ₹ 80 |
| Flexible | cc | ₹ 100 |
| Clear | cc | ₹ 90 |
Finishes
Painting
Post processed 3D prints can be painted to any choice of colour after priming and puttying rendering the finished parts an impeccable automotive grade finishes.
Lacquering
Lacquering can be used on painted 3D printed parts to impart matte or glossy finish as desired. Additionally when applied on clear plastic parts it gives the parts near transparency (90%).
Reviews
Read success stories in social media with Soch3D from these trusted sources.
Customer rating for Soch3D's 3D Printing Service : 5/5 from 5 satisified customers.
Anshuman Benerjee - Kolkata, India
SLA 3D Printing Service, Default (0.1 mm layers) ABS SLA White
Soch3D helped me make a memento for my boss using their SLA 3D printing process. The finish of the product was spectacular and beyond my expectations. I will definitely recommend them for 3D printing services.
Teja Chintalapati - Hyderabad, India
SLA 3D Printing Service, Default (0.1 mm layers) ABS SLA White
Soch 3D is one-stop destination for all your professional and personal 3D printing needs. They have the expertise to take your idea, design your product and then manufacture it. They do all this very efficiently, delivering your product in a very short period. The team at Soch3D is incredibly talented and an absolute pleasure to work with. They always go that extra mile to deliver a very good product. They are one of the most dedicated teams I've come across. If you're out looking for design consultation or 3D printing, Soch3D is definitely the best place to build your idea.
Harish Raj - Bangalore, India
SLA 3D Printing Service, Normal (0.2mm layers, 25% infill) Acrylonitrile Butadiene Styrene Green
Needed SLS printing for my production work. Looked up the internet and found the best reviews for Soch3D in Bangalore. Have not regretted the decision since. Super quality.
Bhumi Sen - Kolkata, India
SLA 3D Printing Service, High (0.10mm layers, 40% infill) Acrylonitrile Butadiene Styrene Black
My metal designs got a new form,thanks to Soch3D's DMLS technology . Got unbelievable results and unexpected improvisations . Thank you Soch3D for all the help.
Arvind. D - Kolkata, India
SLA 3D Printing Service, Normal (0.2mm layers, 25% infill) Acrylonitrile Butadiene Styrene Green
Soch3D the name for good 3D printing in Kolkata . We were looking for Plastic 3D Printing and thanks to Harsha who understood our need and provided the best. Thanks a lot